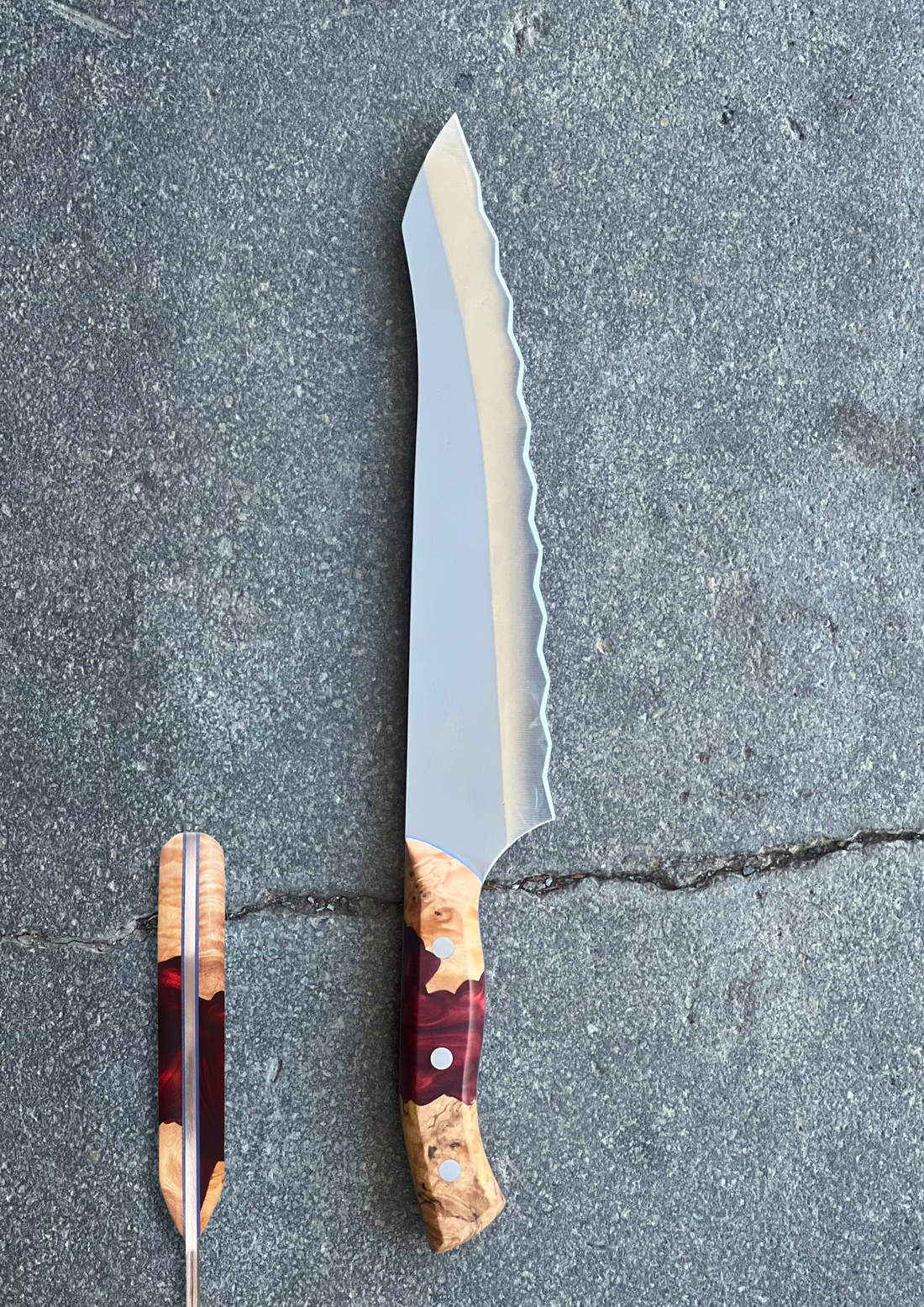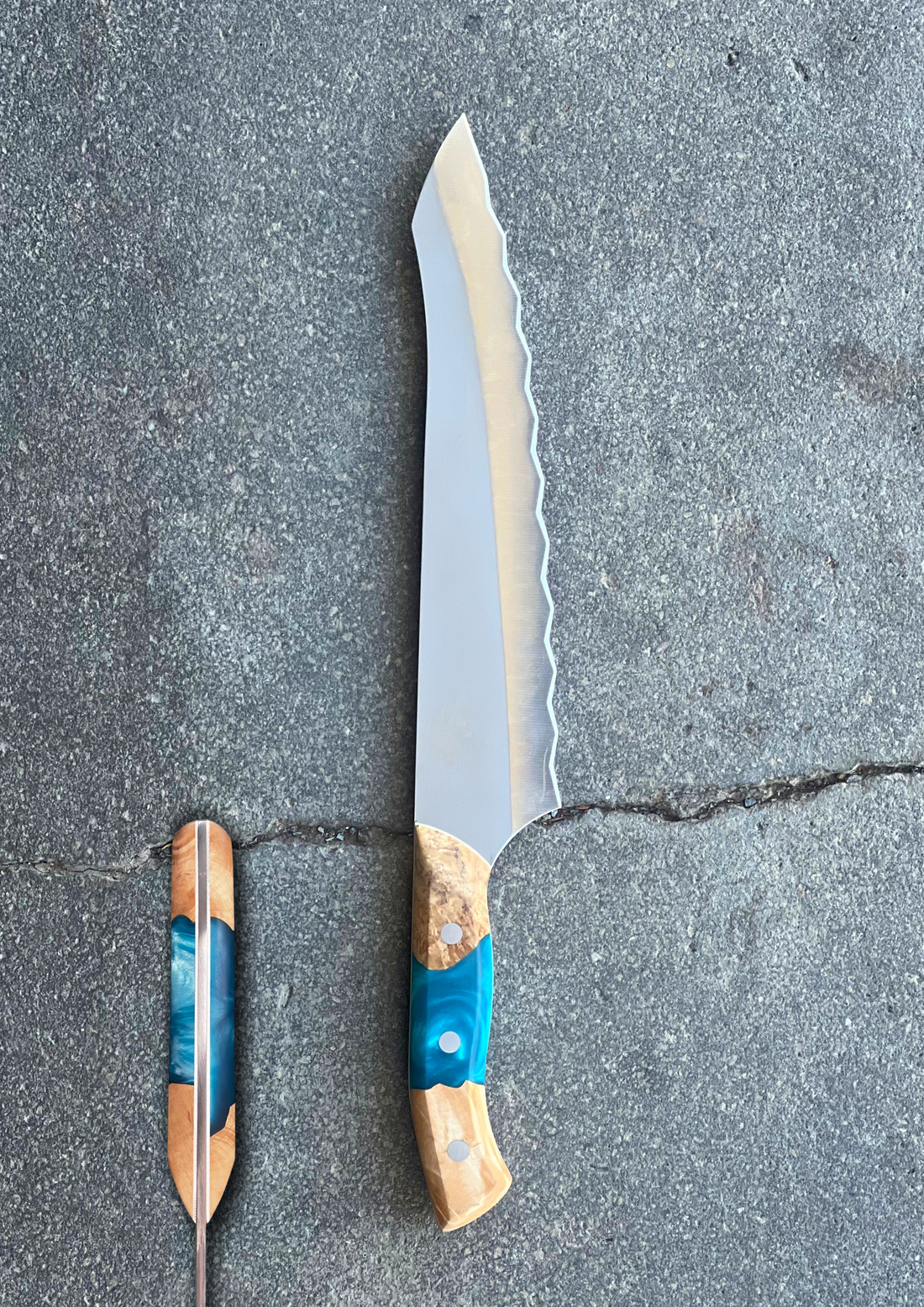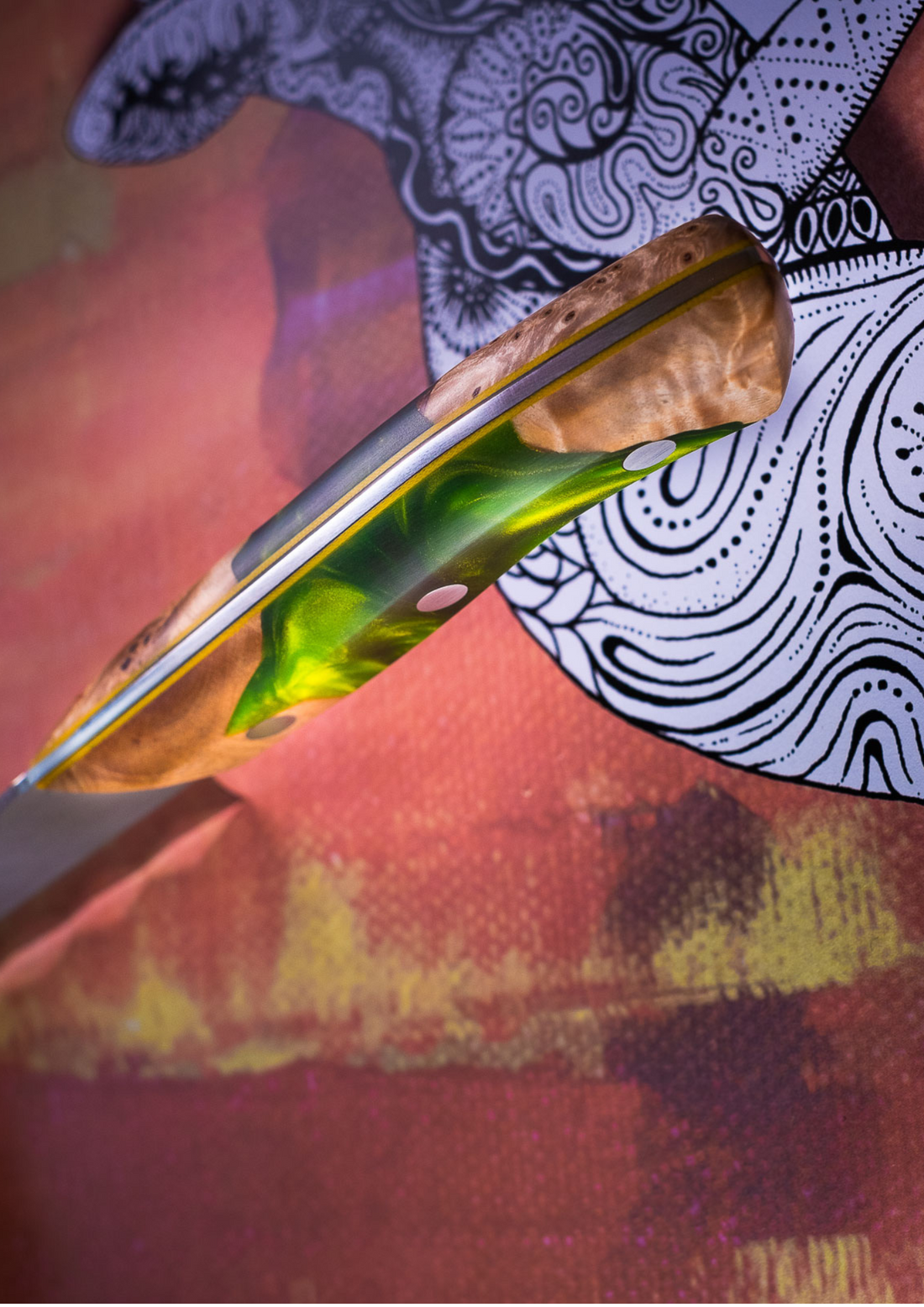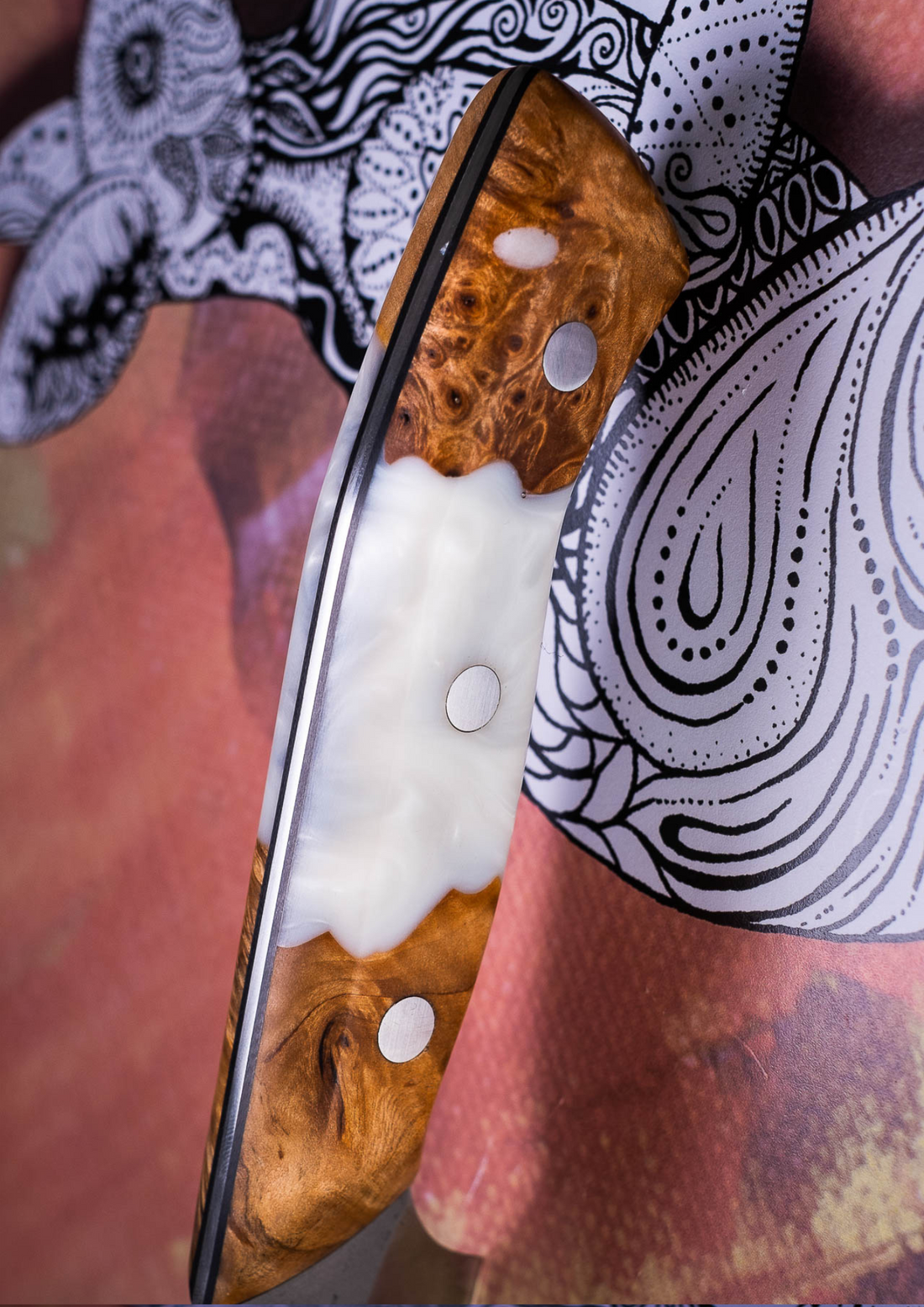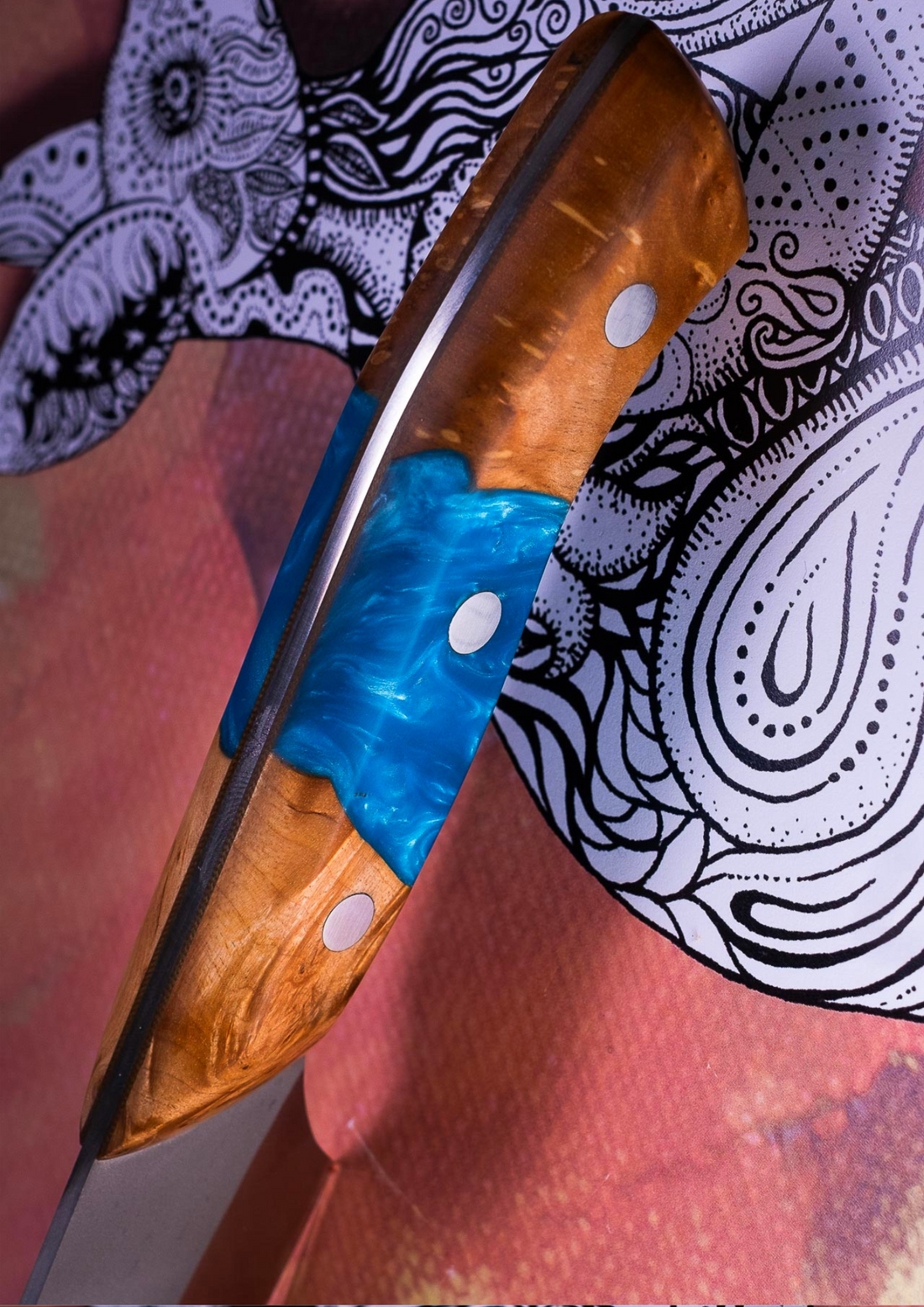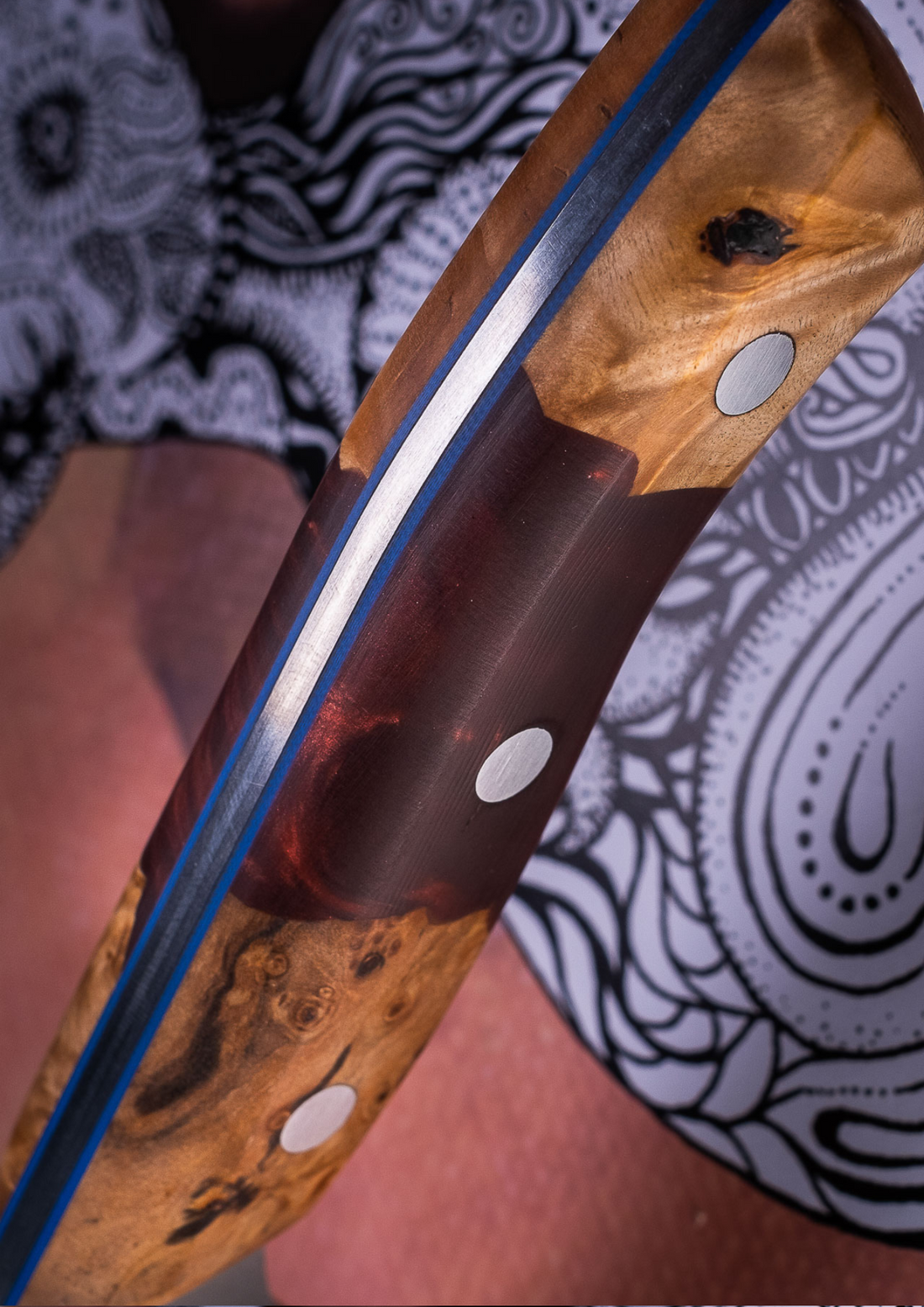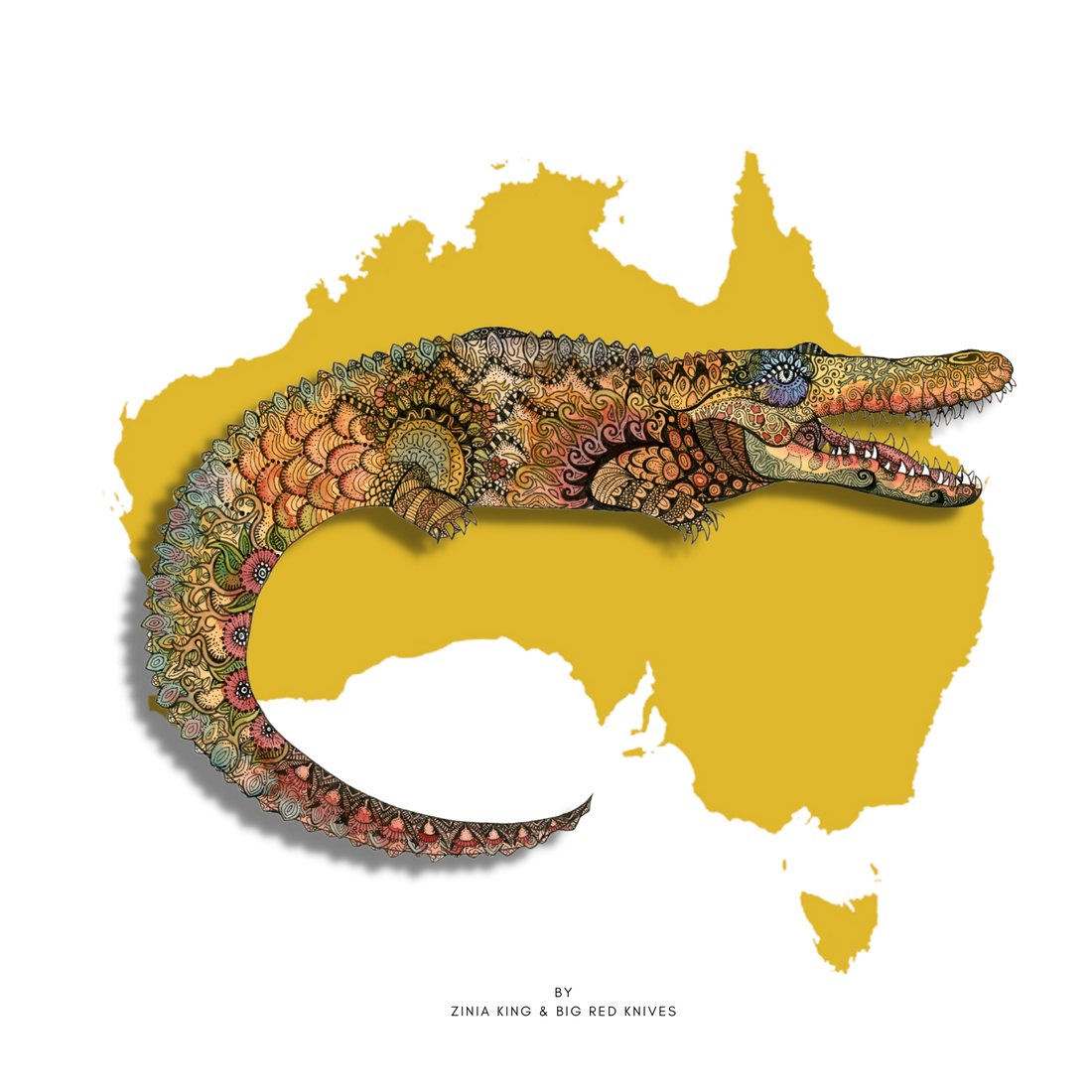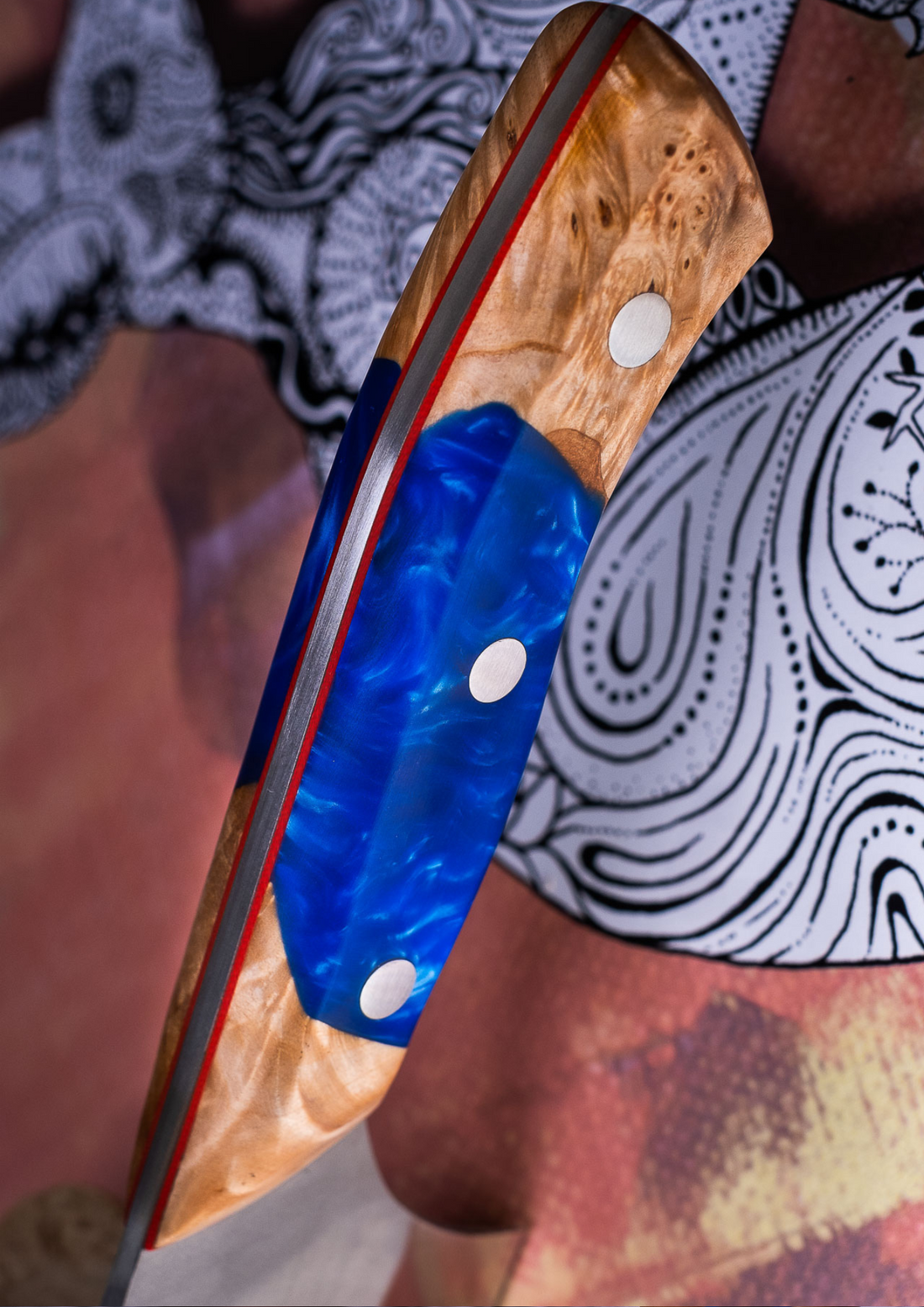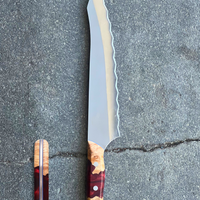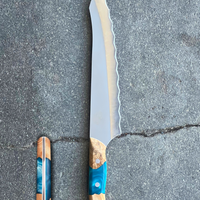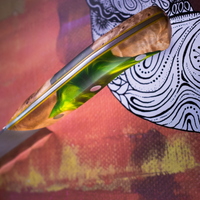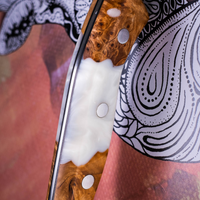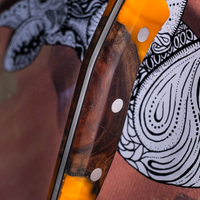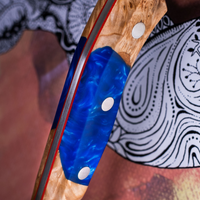 Australian Serrated Knife | "The Croc" Knife | Custom
In the Australian Kitchen, the bread knife or serrated knife, is a must.
The Croc is used at the start of the day to glide its way through a croissant, at lunch to slice a sourdough without pulling it apart, and at dinner to slice protein that has been roasted.
The Croc is a beast of a knife, based on the oldest and most vicious dinosaur that remains on planet earth.
Select your handle colour, and (optional) engraving.
*Please Note: Handles are made using Australian wood burl (roots) so each knife is unique. The images attached are for guiding purposes, so wood grain and resin will vary between individual knives (not the same as the one in the picture).
Description
The Croc (Serrated Bread Knife) Specifications
Blade Length: 230mm (9") | Over All Length: 370mm (14.5") | Blade Thickness: 2.5mm (0.1") | Weight: 255g (9 oz) | HRC: 60-62
1.4116 high carbon German steel construction with sandblast finish. The Croc is the only blade in our collection not made with VG-10. We chose this type of steel to better suit the serrated edge, being slightly softer in HRC to increase the durability of the serrations.
The high carbon content core ensures a razor-sharp cutting edge, clad with stainless steel for protection. Sandblasting the top section of the blade seemed fitting for an Australian knife. From the beaches in Bondi to the dunes on Birdsville, we stand on a sandy country. Practically, this creates a non-stick surface to help glide through vegetables without sticking.
Our wood handles are sourced from the length and breadth of Australia. We fossick for intriguing and symbolic woods for our handles, such as Gidgee from the Simpson Desert which we think pays great homage to the Australian 'Big Red' outback. 
For Australian customers:
We offer $9 flat-rate Shipping Australia-wide.
Orders are dispatched within two days of purchase. For all domestic orders, we use Australia Post where current delivery times are 1 to 5 days.
If the knife is for a birthday let us know and we will upgrade to express at no charge.
For overseas customers:
We offer $29AUD flat-rate shipping for all regions (larger orders are rewarded by keeping the shipping cost fixed).
For overseas shipping, we use DHL or TNT, the two biggest transport companies in the world (The German's versus the Dutch). Delivery times tend to vary from a week to a month, however we do provide tracking information for clarity.
Any issues or problems let us know. If it doesn't arrive then we will refund you or re-make and re-send.
Koi knives are made by a small team passionate about what they make.
We do not have a full warranty for everything.
We make the knife and we are responsible for how the product is made. If there are any product issues related to how it's made we take full responsibility.
Once you take the knife you are responsible for looking after it. To be clear we look at how other passionate makers work with their clients - like those who make Ferraris.
If you invest in a Ferrari you need to take care of it, wash it, service every so often. You need to treat it with love, with the same passion it was made.
If you buy a Ferrari, ignore reading the manual, drive around your local cow farm through the mud and undulating landscape. Leave it by the seaside where the salt comes in from the sea. Don't service your car. What will happen?
Can you bring it back to the car dealership 6 months later and ask for a refund? What would they do??
We are no different. If it's a product problem we will fix it or we will replace it at no charge. If you don't look after your knife then it's your responsibility.  If it needs to be fixed (due to the negligence of the knife holder) then we will tell you what is costs.
Hopefully this makes sense.
Please care for your knife with the passion that your knife is made with.
A very good question. Here's a short answer.
What not to do?
Don't put it in the dishwasher or leave it in a sink full of water as this can lead to corrosion. We also recommend against cutting on a glass chopping board as this is terrible for the blade (can lead to chipping).
What to do?
Our knives have a high carbon concentration meaning they are harder at the edge. This means less honing is needed (i.e. sharpening with your rod at home or in the kitchen).
With this type of steel you should have it sharpened by a sharpener (ideally on a whetstone to stop the steel heating). How often varies depending on usage however most people do it every 3-6 months.
To summarise, less honing and more stoning.
If you need help finding a sharpener near you, give us a bell and we will do our best to assist.
Tax for Australian customers:
Australia is easy. We charge 10% GST (which is included in the price). 
Tax for overseas customers:
Rest of the world is a little more complicated. To date, we have experienced very few tax issues at customs however we're happy to talk with you if you're unsure (and we can pass on what has happened for knives sent to the same region in the past).
An edge in the kitchen
Edge retention is crucial for keeping your knives razor sharp. We choose rock-hard steel at 60-61HRC to ensure your edge is Hattori Hanzō sharp out of the box, and keeps its edge for much longer than other knives.
Quality Japanese Engineering
Our blades are forged in Japan by Takefu Steel. We select VG10 steel for its high carbon content, corrosion resistance and quenched hardness. This results in a knife with incredible sharpness, balance and toughness.
Insatiable Foragers and Tinkerers
We gather symbolic and interesting woods from our surroundings to make unique handles. Each piece carries a story and origin, set into coloured resin to create functional art in your kitchen.