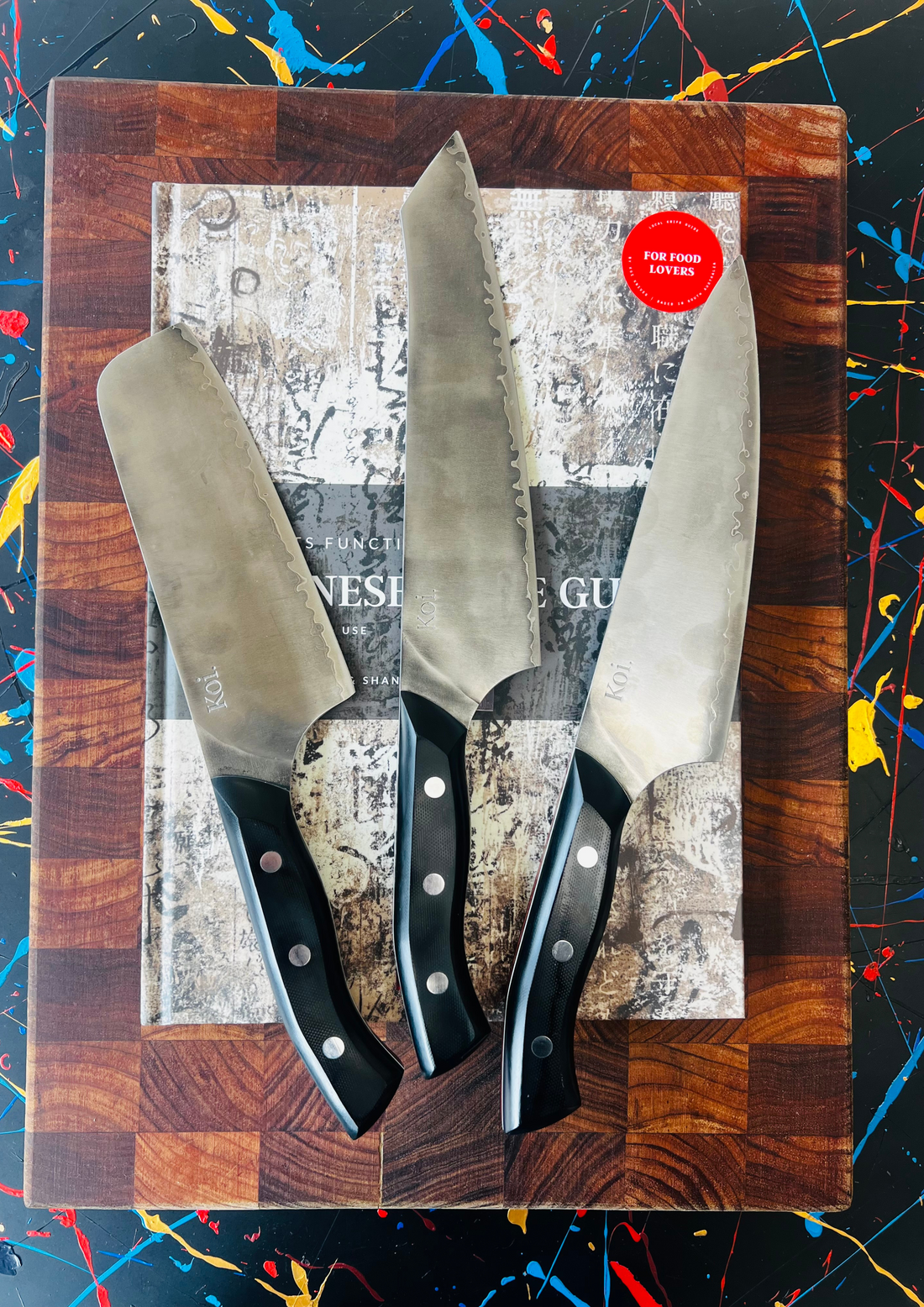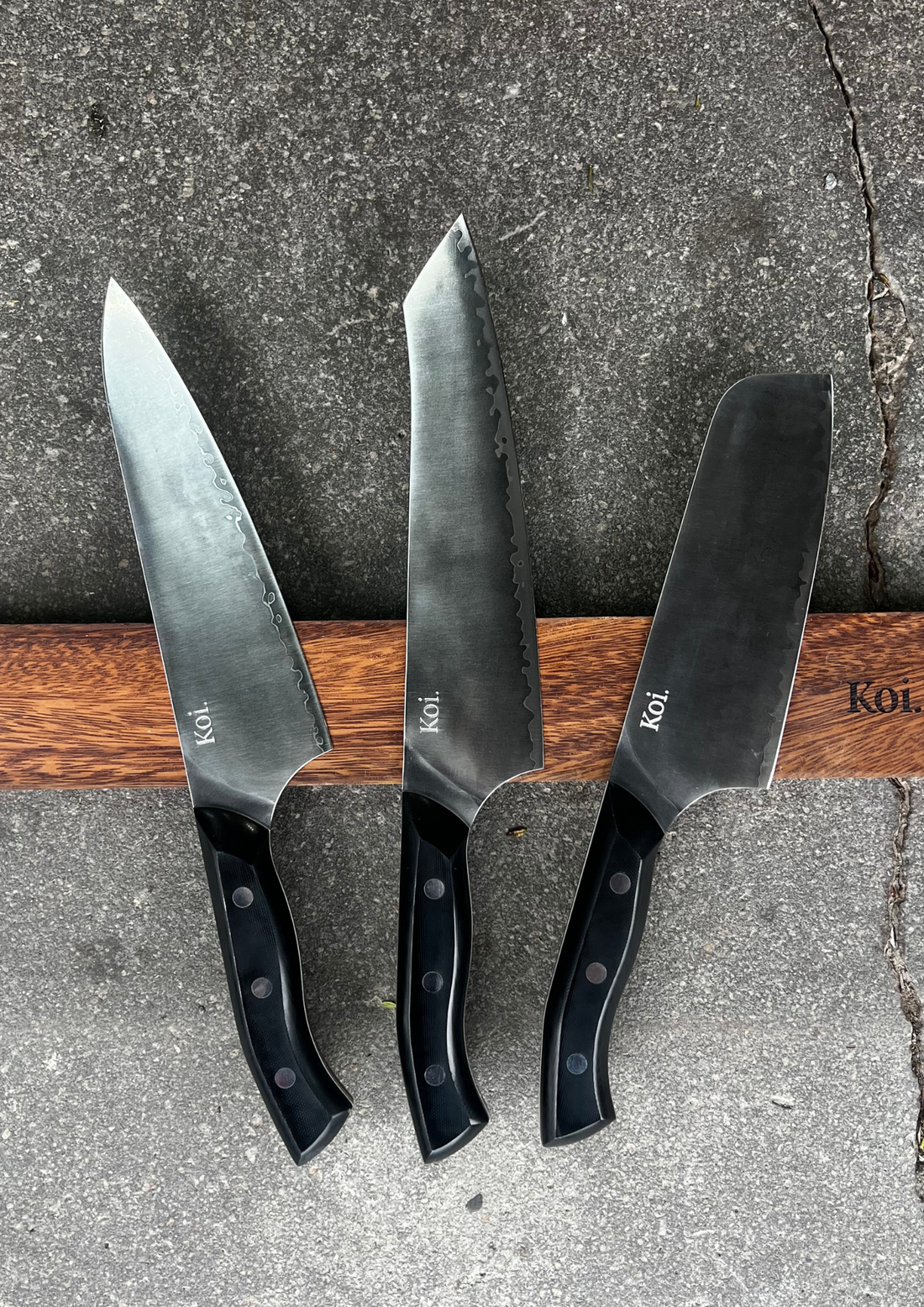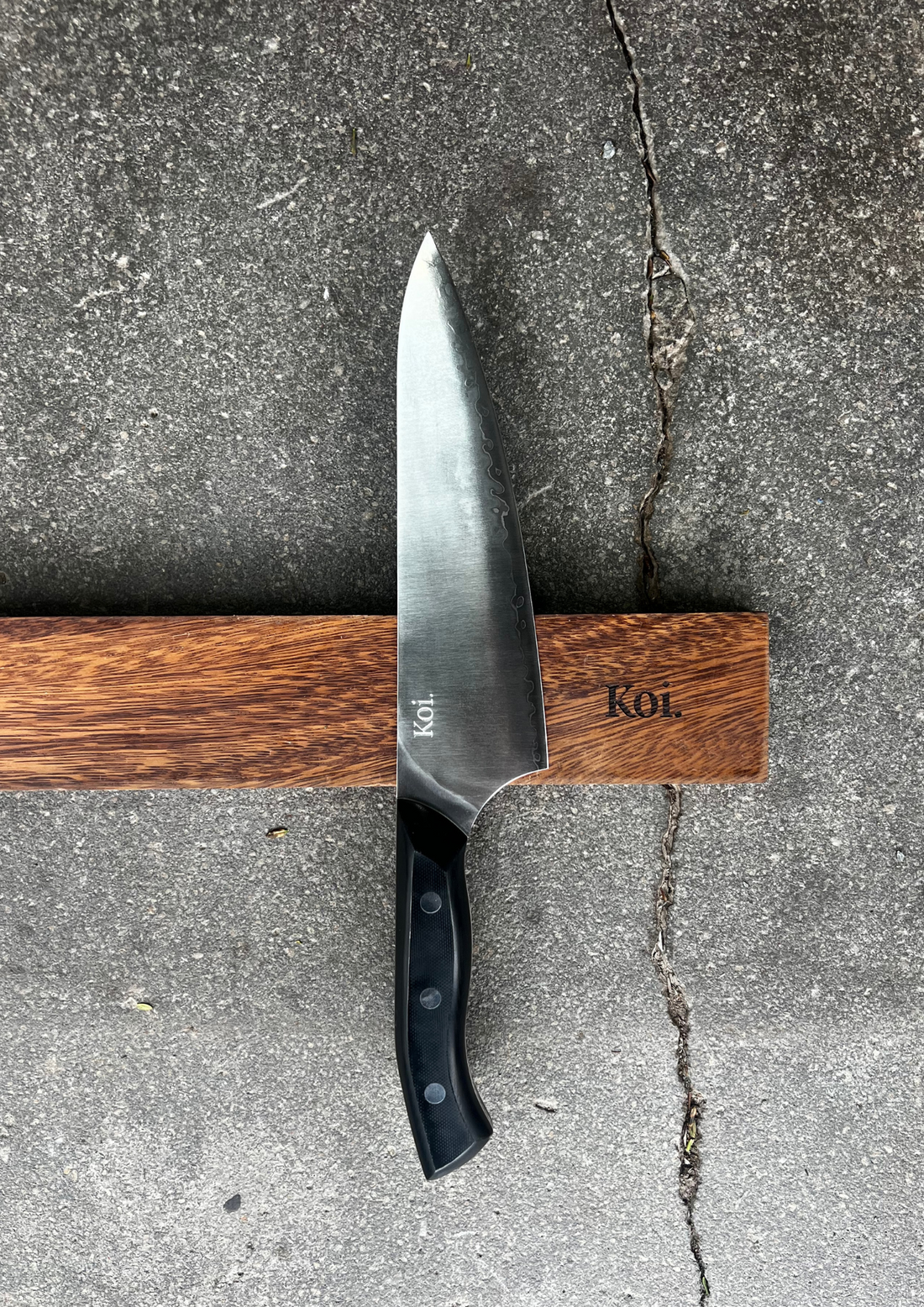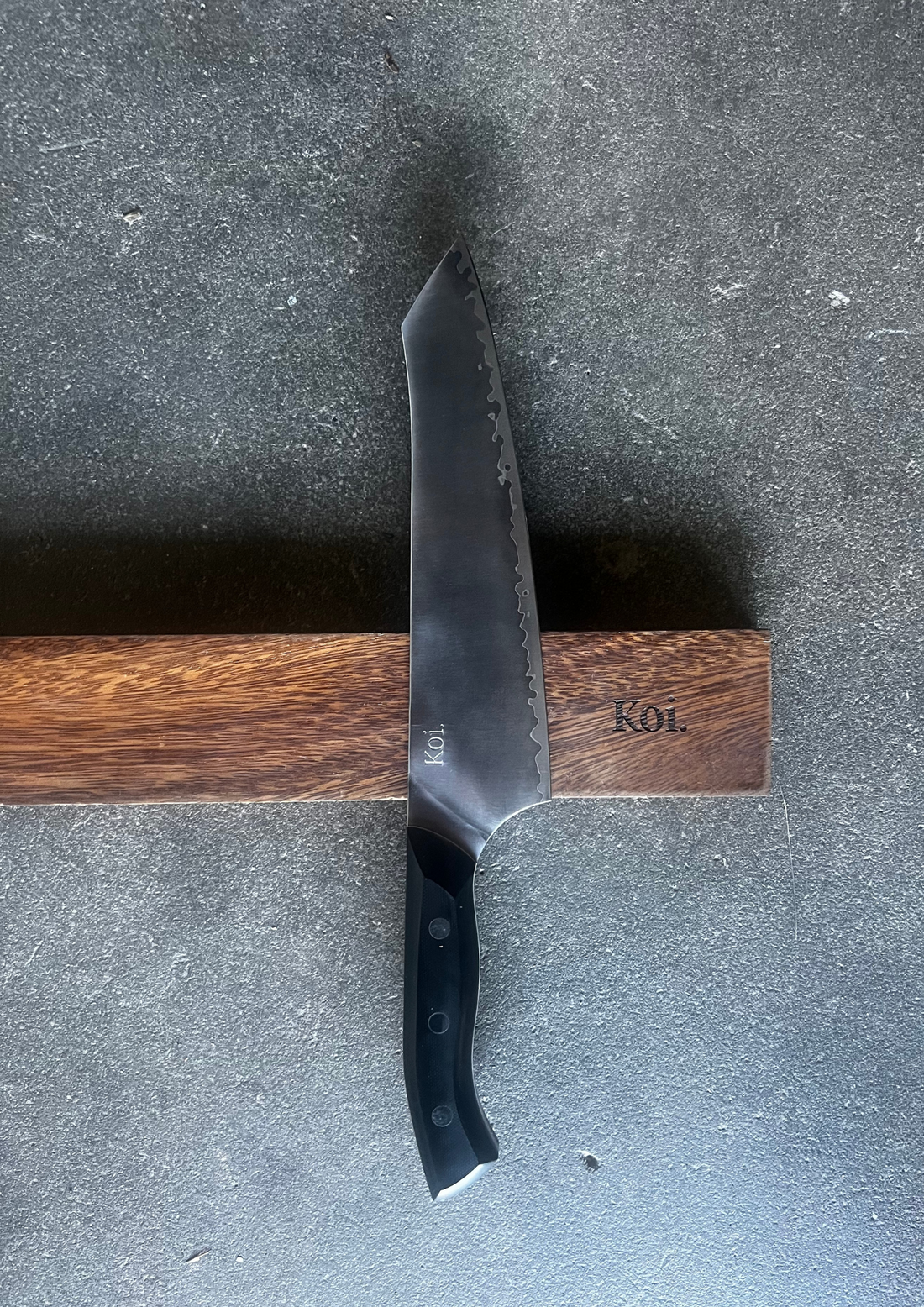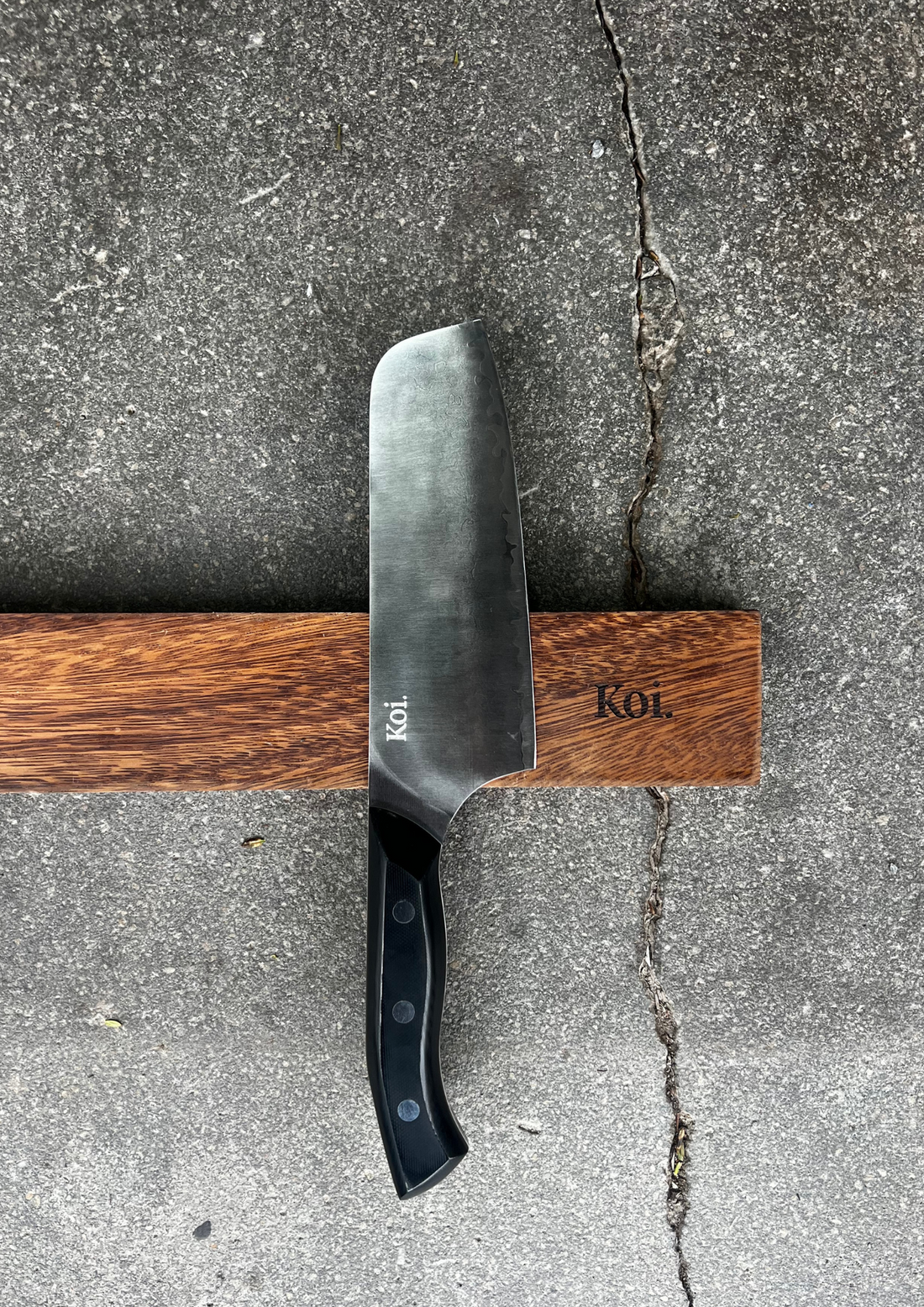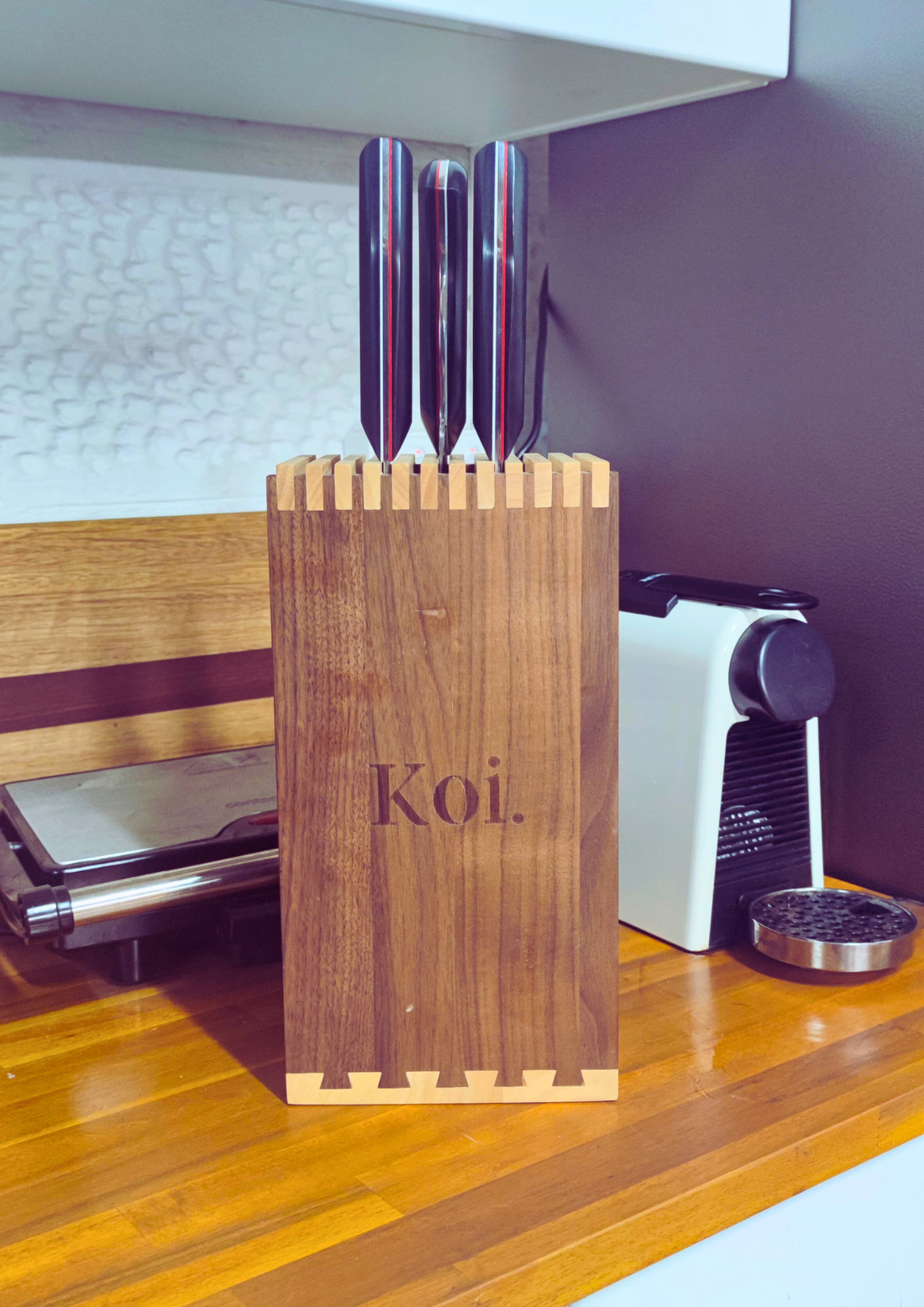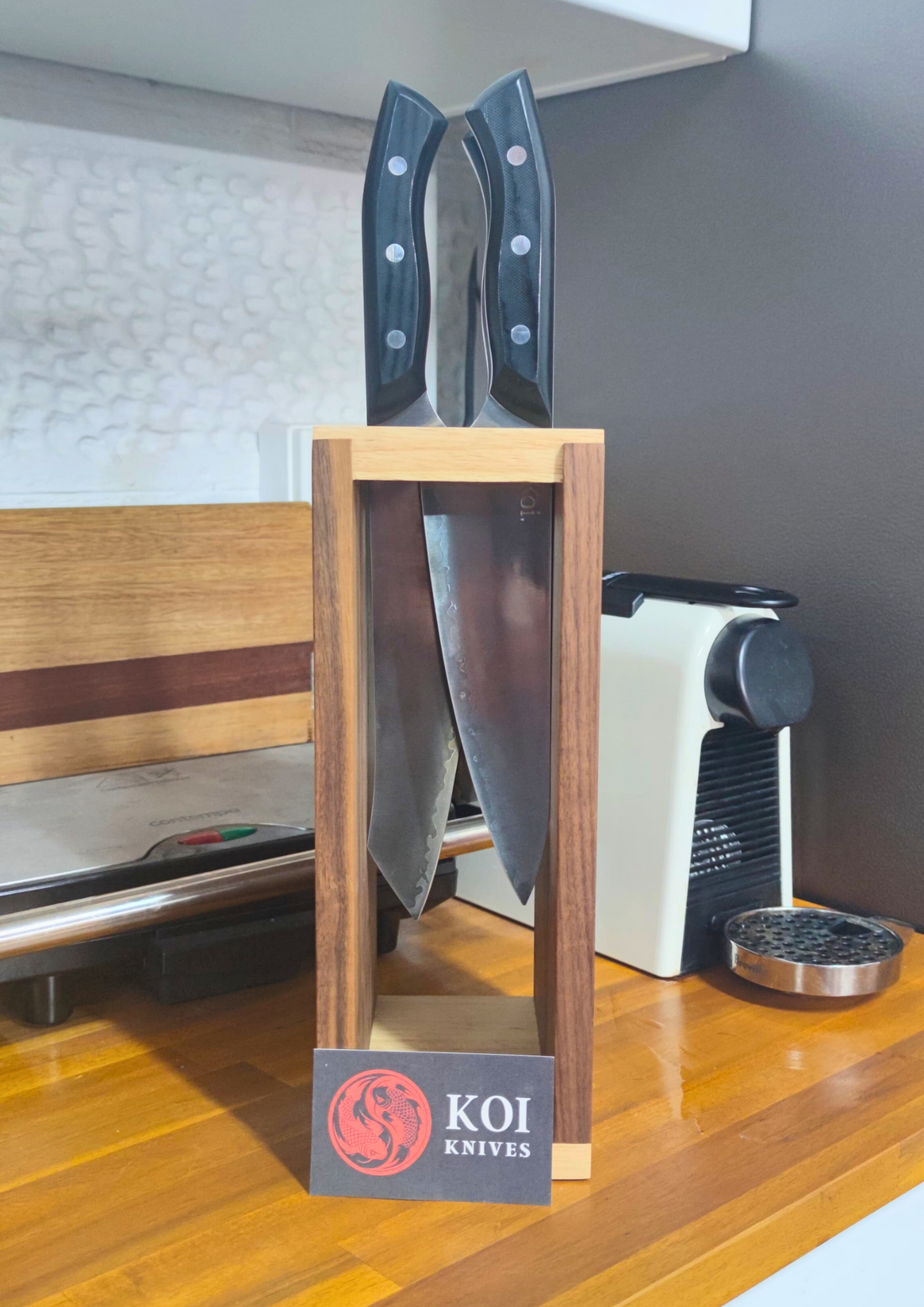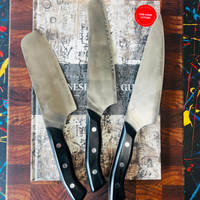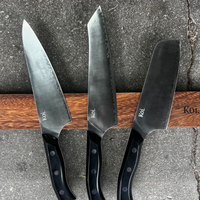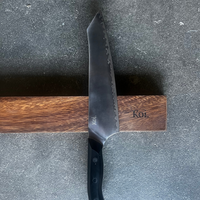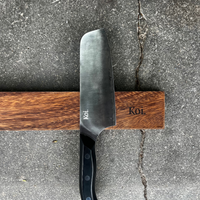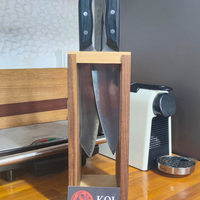 Minimalist Pack | 3 Knives + Local Maker Book
A local 3 piece knife collection by Koi Knives in Goodwood, SA.
In the Minimalist Pack we have 3 knives with heavy duty G10 handles and a patina finish on the blade. We have The Wallaby - a small Chef's knife, The Dingo - a large all-purpose knife, and The Platypus - a knife inspired by a traditional Japanese vegetable chopper. We've chosen G10 for the handle with this range as it is a resin and fibreglass mixture that is made to last (and can handle going through a dishwasher). 
This collection has:
 - The Dingo - An All Purpose Chefs Knife
 - The Wallaby - All Purpose Rolling Knife

 - The Platypus - A Small Chopper
Storage options
Movable Box Counter storage

A compact storage option capable of holding up to 12 knives
Length: 15cm | Width: 10cm | Height: 29cm
Screwless Wall Rack
Able to be attached to any surface permanently or temporarily with heavy duty double sided Velcro.

Length:

 

40cm |

 

Width:

 

2cm |

 

Height: 6cm
 The Dingo 
We wanted to start with something all-purpose, tough wearing, with great profile. This knife has quickly become a favourite in our kitchens, and with the industrial adjustments its only getting better.
It has a long, thick blade making it suitable for most cutting tasks - an All-Purpose knife.
With extra heft toward the tip, like the Dingo's jaws on its prey, it delivers more power through this section of the cutting edge.
Specifications
Blade Length: 
200mm (7.75") 
| Over All Length:
 336mm (13.25")
 | Blade Thickness: 
3mm (0.118") 
| Weight: 
290g (10.22oz)
 | HRC: 
60-62
The Wallaby

The smaller, more agile cousin to the Kangaroo, the Wallaby is designed to handle all the tasks in the kitchen. If you could have just one knife, we would suggest this one. With a 18.5cm cutting length and strong curves, it is a powerful allrounder that suits all cutting techniques, while maintaining a smaller profile.
The classic chef knife shape, with some handy improvements.
Specifications
Blade Length: 185mm (7.28") | Over All Length: 324mm (12.75") | Blade Thickness: 3mm (0.118") | Weight: 261g (9.20oz) | HRC: 60-62
The Platypus
The Platypus Knife takes its design from the Japanese Nakiri, designed for vegetable chopping. Its flatter belly allows it to make full contact with the board after every cut; perfect for fibrous vegetables and soft herbs. Now with the industrial treatment, it is a compact blade with plenty of control.

Specifications
Blade Length: 150mm (6") | Over All Length: 292mm (11.5") | Blade Thickness: 3mm (0.118") | Weight: 275g (9.70oz) | HRC: 60-62
For Australian customers:
We offer $9 flat-rate Shipping Australia-wide.
For all domestic orders, we use Australia Post where current delivery times are 2 to 5 days.
If the knife is for a birthday, give us a call and we will upgrade to express at no additional cost.
For overseas customers:
We offer $29AUD flat-rate shipping for all regions (larger orders are rewarded by keeping the shipping cost fixed).
For overseas shipping, we use DHL or TNT, the two biggest transport companies in the world (The German's versus the Dutch). Delivery times tend to vary from a week to a month, however we do provide tracking information for clarity.
Any issues or problems let us know. If it doesn't arrive then we will refund you or re-make and re-send.
Koi knives are made by a small team passionate about what they make.
We do not have a full warranty for everything.
We make the knife and we are responsible for how the product is made. If there are any product issues related to how it's made we take full responsibility.
Once you take the knife you are responsible for looking after it. To be clear we look at how other passionate makers work with their clients - like those who make Ferraris.
If you invest in a Ferrari you need to take care of it, wash it, service every so often. You need to treat it with love, with the same passion it was made.
If you buy a Ferrari, ignore reading the manual, drive around your local cow farm through the mud and undulating landscape. Leave it by the seaside where the salt comes in from the sea. Don't service your car. What will happen?
Can you bring it back to the car dealership 6 months later and ask for a refund? What would they do??
We are no different. If it's a product problem we will fix it or we will replace it at no charge. If you don't look after your knife then it's your responsibility.  If it needs to be fixed (due to the negligence of the knife holder) then we will tell you what is costs.
Hopefully this makes sense.
Please care for your knife with the passion that your knife is made with.
A very good question. Here's a short answer.
What not to do?
Don't put it in the dishwasher or leave it in a sink full of water as this can lead to corrosion. We also recommend against cutting on a glass chopping board as this is terrible for the blade (can lead to chipping).
What to do?
Our knives have a high carbon concentration meaning they are harder at the edge. This means less honing is needed (i.e. sharpening with your rod at home or in the kitchen).
With this type of steel you should have it sharpened by a sharpener (ideally on a whetstone to stop the steel heating). How often varies depending on usage however most people do it every 3-6 months.
To summarise, less honing and more stoning.
If you need help finding a sharpener near you, give us a bell and we will do our best to assist.
Tax for Australian customers:
Australia is easy. We charge 10% GST (which is included in the price). 
Tax for overseas customers:
Rest of the world is a little more complicated. To date, we have experienced very few tax issues at customs however we're happy to talk with you if you're unsure (and we can pass on what has happened for knives sent to the same region in the past).